Because the action became more important to her than the static image, Sonja Wyss developed over the years a strong affinity to the medium video. The stories, she tells, are showing a search journey after an acceptable identity, a desperate investigation of the own origin, of the basis of melancholy, anger and emotion. The journey turns out as strict training, whereby the bodily functions are subjected to laboratory experiments.In pure intact condition an organism is the most beautiful – however nothing remains intact, vulnerability and transistoriness is part of each organism. This one can be kept upright with prostheses and be attained thus a longer life spans, but on which it arrives finally, is the original, pure condition: the values, which lie in everyone.
Alex de Vries, art critic, Arnhem, NL
MENTAL APPARATUS 1
Edition Pigment print on aluminium
4 ed & 2 Ad 210cm x 90cm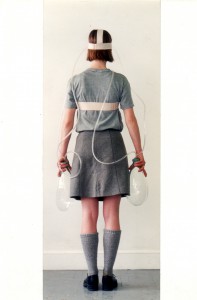 MENTAL APPARATUS 2
Object: glass, pvc, fabric, aluminium, salt, blood 60 x 40 cm
Please Email for information, price, availability and delivery options.